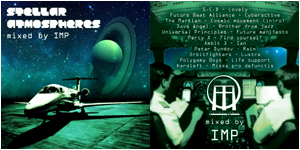 Titan's Halo Records celebrates the arrival of the new year with a new episode of our cosmic podcast section made by Catalonian dj IMP, half of the band MCMX.
Stellar Atmospheres is a mix that flies over soft and mellow electronics inspired in Detroit's classic cosmic electro and techno endeavours (The Martian, Percy X) as well as sensibilities inherited of the eighties cosmic disco, electro and synth-pop (S.C.D., Ambit 3, Orbitfighters). The concept applied in this 45 minutes mix by IMP intends to recreate a contemplative safari to approach through a flyby the beauty of deep inner cosmos in which the mysterious stellar atmospheres will be the major figures.
Label's designer and visual concept artisan Pablo Sanz has taken the controls of the visual aspect of the mix, enhancing Imp's concept by creating the ideal spaceship for the journey, which is parked in one of the colonies launching ramps and represented on the cover. The back cover sneaks into the cabin in order to meet the honourable spaceship crew.
You can download "Stellar Atmospheres" here